Residents of Amranhia East in the Adentan Municipal Assembly in the Greater Accra Region are said to be living in fear and panic as a known dangerous Land guard, one  Emmanuel Accolatse a.k.a 'Amranhia Vandam' is left on the lose.
According to some residents who spoke with this reporter,  alleged that they have on numerous occasions reported the illegal activities of Amranhia Vandam and his squad to officers of the Ghana Police Service high command but nothing or little has been done to arrest him and his squad.
The residents accused the service of none-corporation and alleged underhand dealings by some Police officers who have handled this life treating issues.
The Amranhia East residents have therefore petitioned the Inspector General of Police (IGP) to expedite action on their numerous complaints to ensure that lives and properties are protected.
The residents, in their petition to the IGP, states that this known Land guard Amranhia Vandam, a native of the Republic of Benin and his criminal gang have been terrorising them for the past 10 years without an end to sight.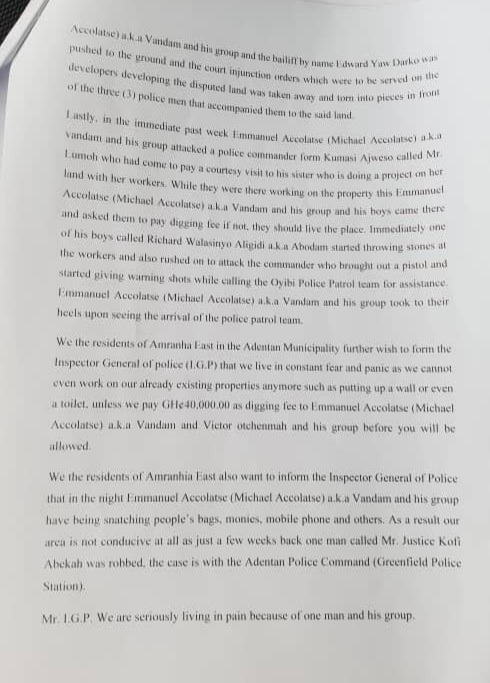 The Residents also alleged that, Amranhia Vandam, and his group in early 2016, shot and killed someone at Amranhia J. H. S. Junction. The case they hinted was reported to the distrect police command and the suspects were subsequently arrested and later granted Bill.
It said the case, considering it's nature was later transferred to the Greater Accra Regional Police Command were the matter was sent to Ajaben court but they didn't hear anything about it.
"We made several followed ups till we were told the case docket was with the Attorney General's office and till date nothing has been heard about it or happened to the culprits, Amranhia Vandam and his gang as they are always seen walking around freely in the community, still perpetrating their illegal activities.
The worried residents further explained that Amranhia Vandam forcefully broke someone's fence wall covering two plots of land and re-sold the same land which does not belong to him to a different person. "This illegal deed was reported to the Greater Accra Policr Regional Command but nothing has been done it". It added
Another recent atrocities according to the residents which were perpetrated against innocent, and law abiding people in Amranhia East by the same Amranhia Vandam,  who is alleged to have been in-stooled as Asafoatse by a former Member of Parliament for Kpone-Katamanso in the Greater Accra Region, Nii Laryeh Afote Agbo has forcefully taken over another four plots of land belonging to one Mr Samuel Seddoh.
According to them, that plots of land belonging to Mr Seddoh has been given to a Fetish priest from Dawume in the Republic of Benin who was brought into the country by Amranhia Vandam to provide him and his men with spiritual protection.
All these incidents the residents say have been reported to the police at the District, divisional and the regional commands but nothing has been done to arrest the perpetrators.
According to the residents, just recently,  this same Amranhia Vandam and his squad mercilessly assaulted a court bailiff by name Edward Yaw Darko, Justice Kotey Amasah and Samuel Adjetey when the trio went to serve a developer developing a disputed land an Accra High Court Six (6) Injuction Order.
Mr Amasah in a telephone conversation said he hasn't been able to do anything on his own for the past six months after receiving the beatings of his life at the hands of Amranhia Vandam and his gang.
"Currently I cannot see clearly and I have been moving from one hospital to another all in a bit to restore my sight back.
It's very painful that a law abiding citizen will be brutally assaulted in the presence of police officers who are to protect lives and properties." Mr Amasah said sadly.
This lukewarm attitude on the part of some Police officers has forced the residents to petitioned the Inspector General of Police.
The residents are appealing to the IGP, to as a matter of urgency cause the arrest of Amranhia Vandam and his gang.
The again want the IGP to institute a panel to investigate activities of Amranhia Vandam,  and officers who have handled their reports and complaints and those find culpable of underhand dealings are punished to serve as a deterrent to other officers who will want to do same.
The residents also want Amranhia Vandam and his gang to be prosecuted and jailed to serve all the affected families,  and individuals justice.
Story: Franklin ASARE-DONKOH
Total Views: 31 ,