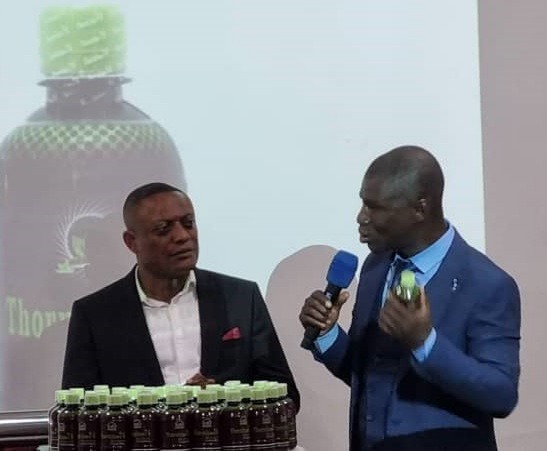 Diagnostic Herbal Clinic (DHC) launched a new herbal product Thorntina-74 unto the Ghanaian market.
Thorntina-74 is the latest addition to the list of stock of drugs from the stables of DHC.
Addressing the gathering at the official launch of Thorntina-74, the Managing Director (MD) of Diagnostic Herbal Clinic, Dr. Yaw Owusu Gyapong, hinted that the efficacy and potency of herbal products and treatments by his outfit's herbal products and other herbal products and services from other herbal medicine practitioners have help to cement the position of herbal medicine and treatment in the Ghanaian health space.
He argued that herbal treatment is gradually gaining roots in the country and urged all to support it.
According to Dr. Owusu Gyapong herbal medicines are affordable and accessible than conventional medicine, strengthens the immune system and stabilizes hormones and metabolism.
Explianing the rational behind the introduction of Thorntina-74 at the launch indicated that the clinic was inspired to introduce a product that will complement the general wellbeing of individuals and also help boost the immune system.
He also added that plans are underway to sell the drug in other West African markets to boost intra-African trade.
"We made this product and we believe it is of high quality, so we intend to sell it across Ghana and in other West African countries, now that there is the talk of AfCFTA, we also want to take advantage of it." DHC MD announced.
Meanwhile, the Ag. Executive Director at Centre for Plant Medicine Research at Mampong, Mr Kofi Bobby Barimah, who was the special guest at the launch lauded the efforts of management of DHC assured the Ghanaian public that the Thorntina-74 gone through rigourous research at the Centre before getting the nod and reckons it is of good quality.
Thorntina-74 also known as T-74 is distillate from combination of various plants materials formulated with no additives and it is to be used as a food supplement to release phytochemicals including antioxidants.
T-74 fuel the body's immune system to naturally fight against diseases.
The main plants used in the preparation of Thorntina-74 are: Moringa oleifera, Spondia mombin and Tetrapleura tetroptera.
T-74 is prepared from plants which are already known scientifically to contain phytochemicals proven to act as: anti carcinogen, immunomodulatory, hepatoprotective, antiviral.
Story: Franklin ASARE-DONKOH
Total Views: 47 ,