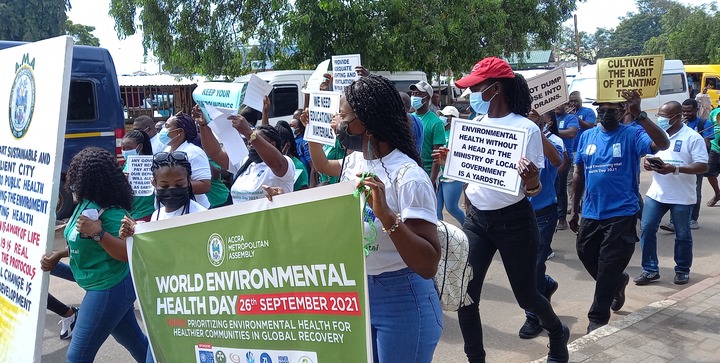 Ghana over the weekend join millions of people across the globe to observed the 2021 edition of the World Environmental Health Day in Accra with a call on government and stakeholders to prioritized environmental health in their scheme of preference.
Speaker after speaker at the durbar unanimous tasked government and its allied agencies to re-look at the management of environmental health issues as well as proper tooling, enhance welbeing of environmental health practitioners from the local to national levels to make Ghana a healthier communities for resilience.
The day draw participants from academia, Environmental Health practitioners, market queens, waste management organisations, assembly members, government agencies among others.
Addressing the gathering, Dean, School of Natural and Environmental Sciences, University of Environment and Sustainable Development, Prof. Edward D. Wiafe pressed on government through the Ministry of Environment, Science, Technology and Innovation, local government ministry, and Civil Society Organizations (CSOs) to understand the gendered impacts of the causes of environmental health and factor same in policy, development planning and implementation.
Prof. Wiafe also advised to government appointees and institutions mandated to see to the environmental health issues to marshal the required political will to make environmental health a priority for communities to become more safe, resilient and sustainable with the appropriate technological measures.
According to the Dean, School of Natural and Environmental Sciences, University of Environment and Sustainable Development, another critical area that need urgent attention from policy makers is the management and governance of human settlements.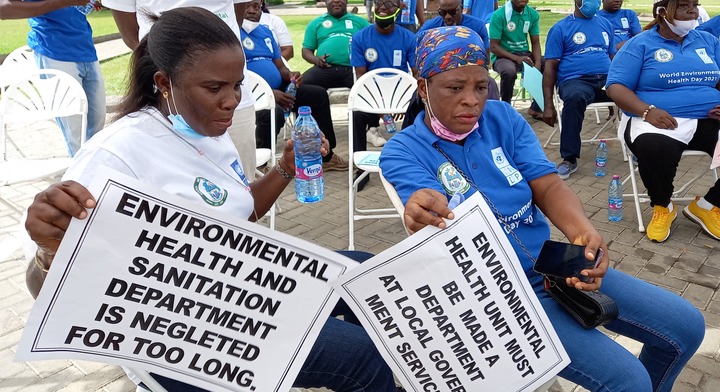 Prof Wiafe explained that the COVID-19 pandemic has proven that an unplanned, haphazard human settlement is prong to diseases.
"A well management and governance of human settlement will strengthen resilience and preparedness, and also support local recovery strategies." He stressed.
The Dean, School of Natural and Environmental Sciences, University of Environment and Sustainable Development, appealed to the general public to plant trees in and around their home, offices, on the sides of streets, and other vantage places to address climate crisis the world is currently facing.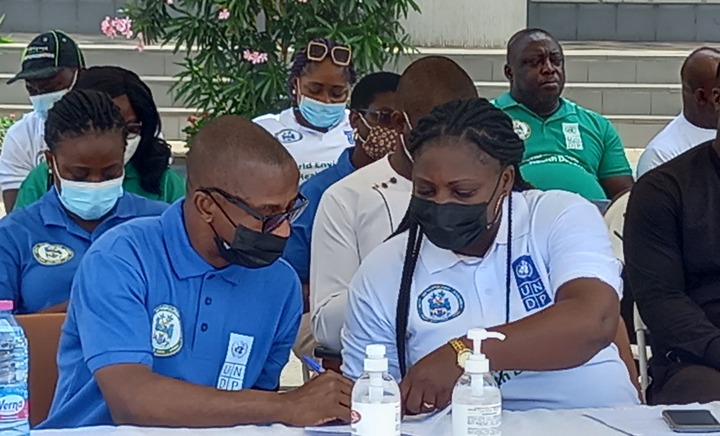 He maintained that there should be a deliberate attempt on the part of government and partners to incorporate tress in the design and development of cities for beautification and environmental services.
"This will promote carbon sequestration and reduce temperature and prevent soil sealing and also enhance soil infiltration which reduces flooding." Prof. Wiafe reiterated.
On her part the Director of Metro Public Health Department of Accra Metropolitan Assembly (AMA ), Mrs. Florence Kuukyi appealed to government to improve the condition of service for environmental health practitioners.
She argued that the COVID-19 Pandemic has come to demonstrate the vital role Environmental Health practitioners play worldwide to face this challenging time for all of humanity.
The Environmental Health practitioners make sure the communities we live in are healthier. Mrs. Kuukyi emphasised.
They ensure that the environment around us is safe, hygienic, and healthy for human habitation. She added.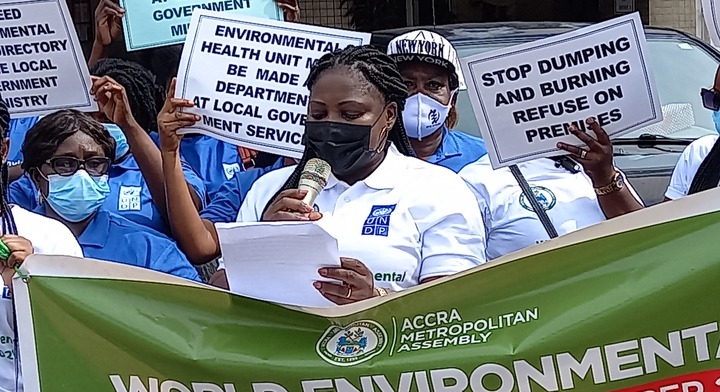 The AMA Metro Director for Public Health Department urged the newly appointed Metropolitan, Municipal and District Chief Executives to make environmental health number one on their agenda.
She cautioned that we will all be at risk if concrete and deliberate efforts are not made to address environmental issues. Saying environmental pollution has no respect for political boundary.
Story: Franklin ASARE-DONKOH
Total Views: 11 ,