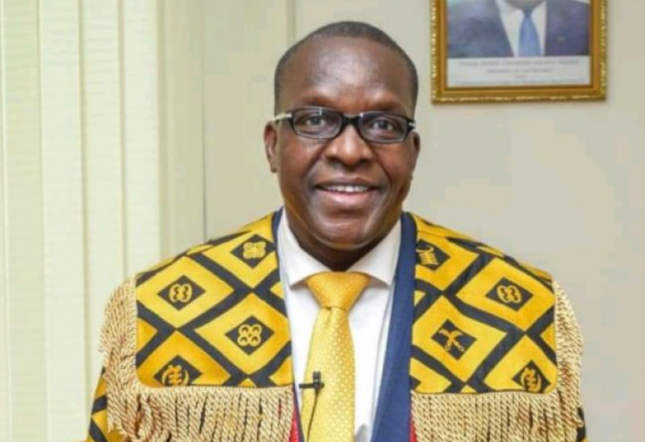 The Speaker of Ghana's 8th Parliament, Rt. Hon. Alban Sumana Kingsford Bagbin has hinted that his high office cannot declare the Assin North Parliamentary Seat Vacant base on the Declaratory Order from the Cape Coast High Court in the matter of the Election Petition of one Michael Ankomah-Nifah Vrs the Member of Parliament (MP) for Assin North, Mr. James Gyakye Quayson.
The Speaker of Parliament maintained that in the light of the certified true copies of documents received from the Lawyers of the Assin North MP, the case in question is still a sub judice and is yet to be concluded by a court of competent jurisdiction.
The Speaker made this known in a letter written on his behalf by the Clerk to Parliament, Mr Cyril K. O. Nsiah to the Registrary, Law Court Complex Accra and copied to the Judicial Secretary and the Registrary of Cape Coast High Court announcing Mr Speaker's decision.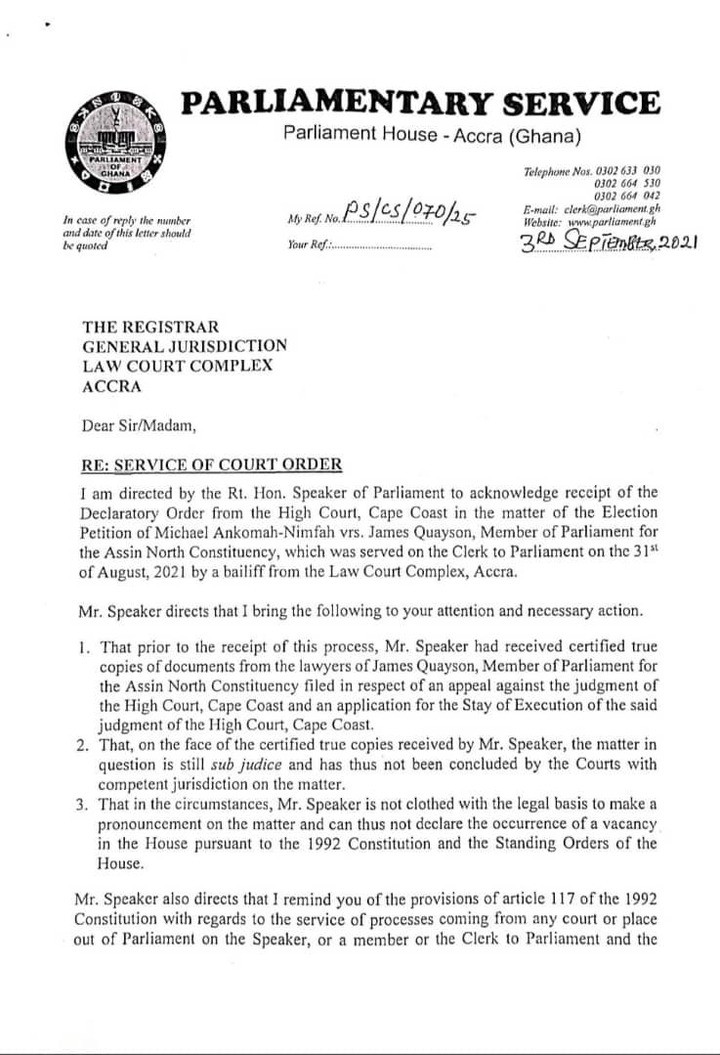 According to letter, documents available to the office of Speaker of Parliament and sighted by this reporter, the Speaker of Parliament has also received certified true copies of documents from the Lawyers of the Assin North Member of Parliament, shows that it has filed for an appeal of the Cape Coast High Court's judgement and an application of a stay of execution for the said judgement.
The letter further noted the fact that his office cannot declare the Assin North parliamentary seat vacant pursuant to the 1992 Constitution and the Standing Orders of Parliament.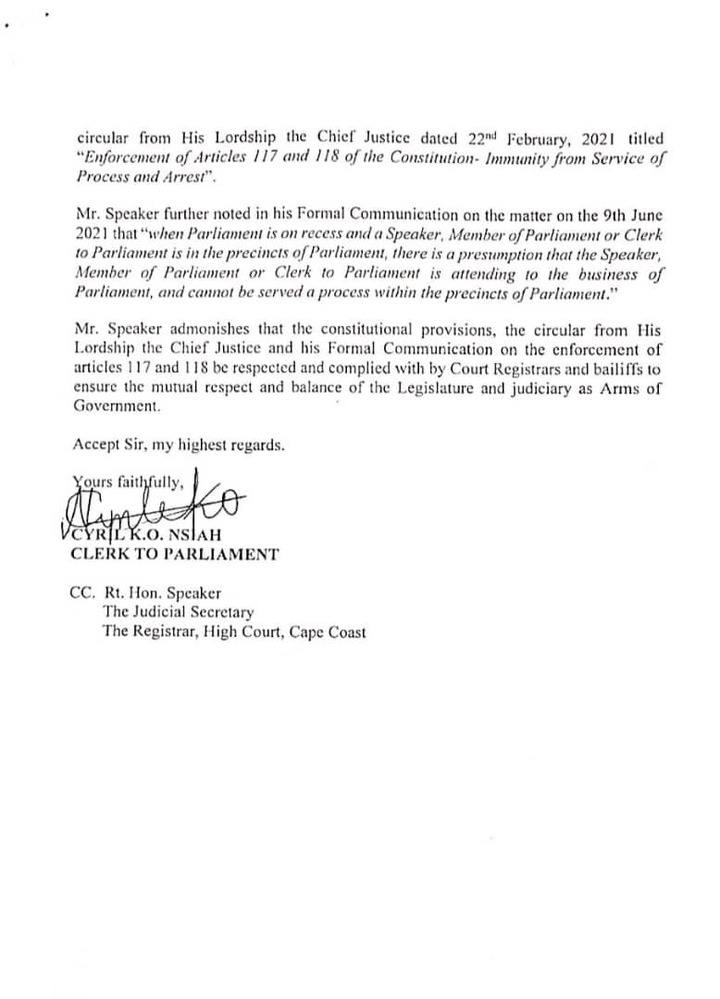 Mr Speaker through the letter remind the Chief Justice (CJ) of the Republic of Ghana of the provisions of Articles 117 of the 1992 Constitution with regards to the service of processes coming from any court or place out of Parliament on the Speaker, or Members or Clerk and the circular from the from the CJ dated 22nd February, 2021, titled "Enforcement of Article 117 and 118 of the Constitution -Immunity from Service of Processes and Arrest".
He therefore admonished that the Constitution provisions, the circular from his Lordship the Chief Justice and his formal communication on the enforcement of Article 117 and 118 be respected and complied with by court registrars and bailiffs to ensure the mutual respect and balance of the Legislature and Judiciary as Arms of government.
Story: Franklin ASARE-DONKOH
Total Views: 48 ,