Some personal from the Ghana Police Service today invaded the headquarters of the People's National Convention (PNC) in a swift manner to avert a possible blood bath between some National Executives of the party and supporters of the embattled General Secretary, Janet Nabila.
The National Executives engaged the media attention at it's headquarters to brief them on issues arising from the suspension of their National General Secretary, Janet Nabila.
But the place was thrown into ecstacy when supporters of Mad. Nabila, led by one Bala Mei kankan who doubles as the Greater Accra Regional Chairman and his group stormed the conference hall amidst shouting disrupting the media briefingin the process.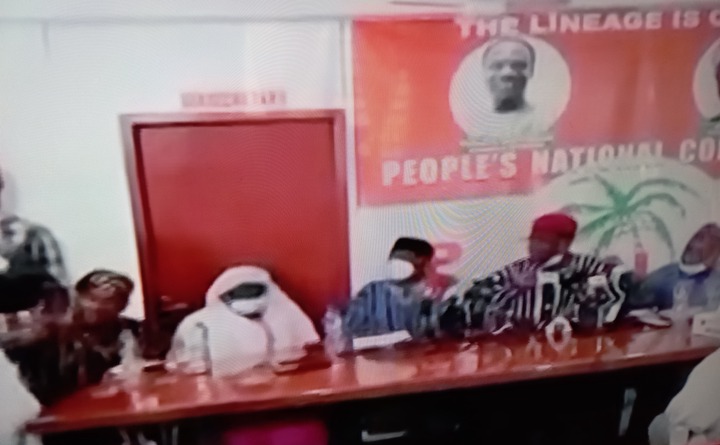 Mei kankan and his group's actions led to a heated exchanges between them and the leadership of the party in the midst of the press conference.
However, the timely invasion by the Police personnel saved the day, as they drove away Mr Mei kankan and his group out of premises.
It would be recalled that on August 28, 2021, the National Executive Committee (NEC) of the PNC took a decision to indefinitely suspend Nabila over gross misconduct, insubordination, and incompetence.
The media briefing was halted for several minutes following the altercation.
In the meantime, the party leadership has given Janet Nabila a one-week ultimatum to hand over to the PNC National Treasurer.
The leaders of the party have also agreed for Prince Agyeman Duah to serve as the acting General Secretary until further notice.
Janet Nabila had earlier denied reports that she has been suspended from the party.
Mad. Nabila despite the party's NEC decision and the announcement made today by the National Executives, maintained that she (Janet Nabila) is still the general secretary of PNC.
"I'll continue to carry myself and act on behalf and for the party as the legally elected General Secretary of the PNC as the party's constitution prescribed." The embattled General Secretary reiterated when she reached on phone by this reporter to seek her reactions.
Story: Franklin ASARE-DONKOH
Total Views: 47 ,